Independence Day is just around the corner and we can't keep ourselves from being excited to celebrate this day. It is the day when India became independent on 15th August 1947. It is marked as one of the most Important national days of India, with the tricolour fluttering above in the blue sky. What are your plans for the day? If you are confused about what dresses to wear on this auspicious day, let me help you a bit for this purpose. Just follow these ideas to heighten your patriotism for your country by wearing these dresses.
There are many patriotic ways to give your dresses an Independence Day feel. Here are some interesting dresses and ideas to celebrate Swatantrata Diwas in a desi and memorable way.
---
Wear Colour-Blocked Salwar Kameez
Wear tricolour in your salwar suit. The shades of the Indian flag will certainly make you look in-sync with the patriotic fever. This is a beautiful, thoughtful and easiest way to show off the tricolour. These type of ethnic dresses, furthermore, will shower your patriotic feeling towards the motherland.
---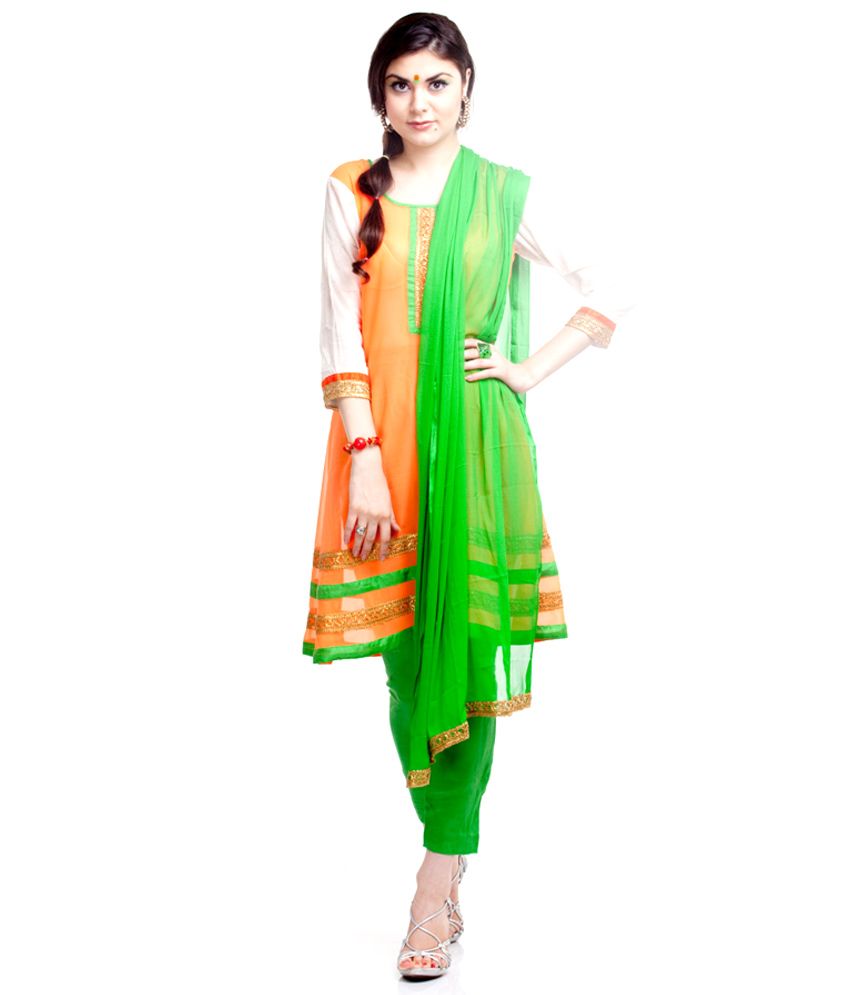 ---
Drape Around traditional silk saree with a national flag colour scheme
Wearing Indian saree can bring out the femininity of a woman because no other outfit can look more Indian than a saree on an Indian female. When you wear a beautiful traditional saree on Independence Day, it would make you look fashion-pro and Indian at heart.
---
ALSO, READ|Dress for your age!!! Kurta for 40s women who love fashion
---
Tricolour Dupatta
Yet another classy and understated way to carry the Independence Day look is to wear a tricolour dupatta because a beautiful tricolour dupatta will make a memorable and colourful option for the day. Wear tricolour dupatta with a simple white colour salwar kameez. White kurta and churidar with a tricoloured dupatta, as a result, will serve as a wonderful stylish twist.
---
Printed Tee
Okay, we know you love your casual outfits. Don't you? You can put on a tricoloured t-shirt on this Independence Day because wearing this means you are wearing your love for your country on your sleeve. It is a good idea, hence, to invest in a simple printed tee that deepens your patriotism and devotion for the country.
---
ALSO, READ|Hello bride & groom!! The 10 best Wedding dresses for you
---
For men
There's something for men as well because the styling is not meant for only women. Boys can show their patriotism by wearing a simple and flag colour t-shirt for this Independence Day.
---
Instill patriotism with Independence day dresses for kids
Most schools ask children to come to school in fancy dress for Independence Day celebration. You may choose to dress your kid as a freedom fighter. Some of the popular fancy dress ideas to show the patriotism for Independence Day are:
Mahatma Gandhi – Dress your child in plain white dhoti, a pair of spectacles and a stick in hand. Mahatma Gandhi attire will give your kid a special look on this special day. This also provides an opportunity to teach your children about Gandhiji's views on patriotism about our country.
Pandit Jawahar Lal Nehru – Dress your child in kurta pajama, a jacket and a cap with a rose in the buttonhole of the jacket. This costume will give your kid the look of Jawar Lal Nehru which is definitely the best outfit for this purpose to instill patriotism in your kids.
Modi Dress– You can even dress your baby in Modi dress because Narendra Modi dresses are in fashion now.
---
ALSO, READ|Looking for ideas about what to wear for summer? Here are the Summer tips
---
As you hear the Independence day speech, let your heart be filled with devotion for your country on this Independence Day. Make this day a special one by wearing patriotic dresses and listen to desh bhakti songs. Feel proud to be a part of this great country. Moreover, we must remember this day for the sacrifices of the freedom fighters both heralded and unsung. It is due to their sacrifices that we live in a free country. We must appreciate our freedom and celebrate it. We should always pay respect to our fallen heroes. Jia Hind!!
!!!!! WISH

YOU

ALL

HAPPY

INDEP

ENDENCE

DAY

2018!!!!
---
ALSO, READ|Alia Bhatt, Rihanna and Kim Kardashian wear a similar-different dress
ALSO, READ|We Celebrate 26th January! What does the Republic day really mean?
---