When it comes to cost-effective innovations, India knows how to make ends meet through its ingenious approach to life.  Well, there are various inventive hacks where the Indians have mastered. This innovative fix is aimed at creating things that are economical, environment-friendly and simple. It requires observation, passion, perseverance and patience.
Nowadays, this ingenious innovation influences the West which they are adapting.
Many inventions that impact the lives of the people are as follows:
SuryaGen Solar Water Purifier
Suryagen Renewables is an incredible open source solar water purifier. The IISc researchers developed this water purifier which can purify water from sea, river, pond, wells or even water collected from rain. The low-cost device can also provide clear drinking water in areas where the only sources are contaminated with arsenic, fluoride or sewage.
In this device, impure water that evaporates using solar energy and the vapours condenses into pure water on a cold surface. This leaves behind bacteria, heavy metals, arsenic, fluoride and other impurities. It can effectively produce 1.5 litres of potable water from 3 litres of impure water daily.
Also, Read|2000 days to remember for NASA's Mars rover Curiosity.
Envigreen Edible Bags
Plastic causes havoc in the environment, and it leads to the destruction of ocean ecosystems, it also harms the lives of cattle and birds. As we know, plastics are not biodegradable, hence many cities in India have banned the use of plastic bags. To protect our environment from the evil plastic pollution, a young entrepreneur has come up with a wonderful solution. He developed a sustainable yet affordable transparent plastic like a bag. A combination of natural starch (from potato and tapioca) and vegetable oils results in the formation of plastic. Moreover, it has no adverse effect on the environment as it naturally degrades in 180 days and if they are submerged in water, they disappear in a day. They are edible as well which means if animals eat non-degraded bags there will be no adverse effects.
3. Self-Repairing Roads
The roads of India go through wear and tear every year. It requires a high cost of maintaining these roads. However, Nemkumar Bhantia, a professor in the Civil Engineering Department at the University of British Columbia (UBC) has come up with a brilliant idea of self-repairing roads that are even sustainable. These roads are built using an ultra high-strength concrete, and special fibres developed at UBC. A road in Karnataka one such road which is not only cost-effective but has greater longevity.
These self-repairing roads are made with 60 % fly-ash and only 40 % cement. A hydrophilic nano-coating is present in these fibres, which absorbs water when it rains. Now, the absorbed water then becomes a key component in healing cracks. The hydration capability of the water heals the cracks as soon as it appears. Therefore, it produces more silicates, which actually close the crack before they grow larger.
Also, Read|Acidic Ocean! Study Says Coral Reefs at Risk of Dissolving!
4. Ulta Chaata Harvester
Water harvesting is the most compelling way to conserve water during a scarce time. Henceforth,
A couple, Samit and Priya Choksi have found an incredible way to save water using Ulta Chata (an inverted umbrella ). It is an indigenous patented system that smartly converges rainwater harvesting and generation of renewable energy for open spaces. It can easily be installed in smart cities, industries, or large campuses.
Its single unit can help you harvest up to 100,000 litres of water and also capture energy with maximum peak power of 1.5 kW.
Ulta Chata is a canopy that filters the collected rainwater using an integrated 5-step filtration unit. There are storage tank allows where the filtered water flows in and tap attached to it will enable the users to get purified drinking water. It also works as a solar electricity generation system to provide lighting at night and charge devices. It is also IoT (Internet of Things)-enabled, to collect useful environmental data.
Also, Read|Mud home:convenient way of living-from ancient to modern day
5. Cane-based Prosthetic Limbs
Bengaluru start-up, Rise Legs, has made an affordable and lightweight prosthetic leg for amputees. It is made up of cane which can be better than the conventional low-cost prostheses in India, made of rubberwood or plastic. Unlike rigid, heavy and cumbersome prosthetic legs these cane legs are light for walking and convenient for high-level activities. Modern prostheses are made of material like carbon-fibre and Kevlar. Though, its flexible but they are far too expensive for most amputees in India.
Arun Cherian the brainchild of this extraordinary prothese is a roboticist and engineer.
He noticed how cane furniture can hold human weight as they are shaped bending the stem. This observation triggered an idea to use the high-level, strength and spring-like quality of the cane to develop prosthetic legs. He then collaborated with a local cane artist, Rahman Abdul, and created legs with which people can not just walk, but also run, play and dance. These are affordable enough for the Indians.
Also, Read|India turning to the wasteland. Is Modi's Swachch Bharat a distant dream?
Also, Read|Aquatic moss clears water from arsenic in less than an hour
6. Low-Cost Wind Turbines
Arun and Anoop George two brothers from Kerala begin the startup Avant Garde Innovations. They innovated a low-cost wind turbine that can generate enough electricity to power an entire house. The turbine is a size of a ceiling fan which can generate 5 kWh/kW per day and cost less.
In January 2016, the company launched its pilot project in the capital city of Thiruvananthapuram. The small wind turbine prototype are highly scalable for power capacities of 300 kW or even higher. This revolutionary product has also won them a spot in the Top 20 Cleantech Innovations in India.
Also, Read|Stephen Hawking travels to the cosmos leaving behind his wheelchair
7. No-Fuel Plough
Ram Prasad, a 50-year-old farmer in Banda in Uttar Pradesh, upcycled an old bicycle to make a low-cost plough that inspired his neighbours. During a drought year, the farmer had to sell his bullock to bear the expenses of his family.
Due to lack of money, he cannot afford tractors and other equipment as well. This made it difficult for him to plough his field and yield crops. Realising the situation of farmers who were burdened with rising costs and no returns, he then decided to find an economical way to sustainable farming. Hence, the idea of innovating a plough using his bicycle struck into his mind. Therefore, it is a cost-effective way of ploughing makes it easy for every poor farmer to yield crops.
Also, Read|NASA Satellite Atlases Cloud Ice Around the Globe
8. E-Fridge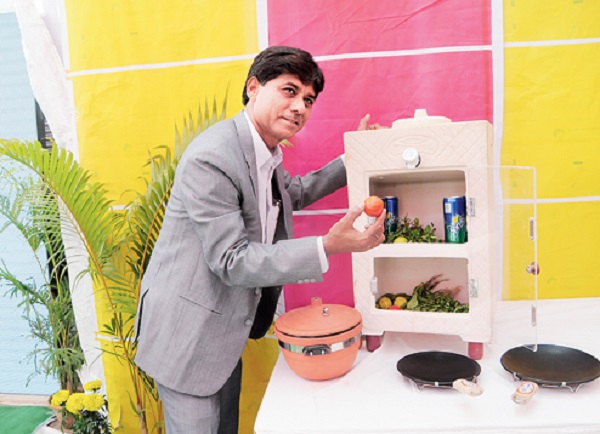 Mansukh Lal Prajapati, a traditional craftsman after suffering a loss in Gujarat came up with an idea of clay fridge. Hence, he invented a fridge made out of clay which works without electricity. This amazing innovation of a E fridge can preserve the original taste of the food items. The cool innovation finally turned out to be great inventions.
Also, Read|NASA confirms! Indian spacecraft Chandrayan-1 finds water ice on the moon
9. DewDrop Water-from-Air Condenser
Jawwad Patel, a 22-year-old engineering student from Hyderabad, designed a 3D-printed apparatus which can 'create' water from the air. He is the first person from Asia to do so. The water apparatus produces pure drinkable water with the help of a computerised sensor interface with a UV filter. In an hour, the device can extract nearly 1.8 litres of water from the air.
'Dewdrop', this device uses the moisture in the air to create the water. Previously he built a smart helmet, which will not let you drive if you are drunk. He won the National Youth Award 2015-16 and Dr APJ Abdul Kalam Excellence Award 2016.
Also, Read|Know how Ozone layer effects life on Earth
10. Wheelchair
Shanu Sharma, a student from IIT Kanpur, made a remarkable innovation to help the disabled people. This wheelchair that can go up and down a staircase without the aid of planks. This innovative convertible manual, stair climbing wheelchair enabled the student to win GE India Innovation Award. They named it 'Vardaan' and its design enable to climb stairs with mechanical benefit via lever ratchets system and braking system. The frame incorporates a specially designed Y-shaped wheel for better grip and optimum braking for climbing up and down a flight of stairs.
Also, Read|Top 10 Private Engineering colleges in India