People generally recognize you by your face. The eyeglasses you choose to wear are a very essential part of your identity. The first and the foremost thing of choosing a frame for yourself is that the eyeglasses must suit your face and you must look good with your eyewear. So, without wasting any more time, let's see which eyewear suits best for your face structure.
Use the following tips to find the best frame that suits your face shape as well as goes with the current fashion.
If you have a round structure, go for a square or rectangular shape eyewear. This will enhance your look. A square or rectangular frame will make your face look slimmer and longer which will add balance to your round features.
Frames to Avoid: A round countenance must avoid rimless frames, round frames, and small frames. Because such frames will accentuate the roundness of your structure and will make your round features look even rounder.


---
ALSO, READ|8 Bollywood celebrities who faced depression & anxiety in their lives
The most popular frames for oval shapes are geometric shapes eyewear. They bring out the natural balance of your profile. This will also highlight the best features of your profile. Also be sure to look for a pair that is wider around your eyes.
Frames to Avoid: Avoid wearing eyeglasses that are overlarge and cover up more than half of your countenance. Such frames will throw off the natural balance and symmetry of the oval face.


---
ALSO, READ|Monte Carlo Masters2018! Nadal storms past, But Djokovic faces Acid Test
Eyewear which has oval or round frames will add a thinner appearance to the angles of a square countenance. Such frames look best on square looks.
Frames to Avoid: Avoid using angular and boxy eyeglass frames. Such frames will draw attention to your angular features and will make a square countenance appear bulky.


---
Wear cat eye glasses and oval frames. These frames will accentuate your cheekbones and delicate features.
Frames to Avoid: Avoid wearing boxy and narrow frames cause that will accentuate the width of your cheeks which will draw attention to your narrow features rather than enhancing them.


---
ALSO, READ|Take that! Mother's revenge on trolls for face of daughter on abortion poster
If you have a heart-shaped face you must choose frames that balance the width of the forehead with the narrowness of the chin. Such frames are ideal frames for a heart-shaped face. Eyeglasses with low-set temples and bottom heavy frame lines will add width to that narrower part of your countenance.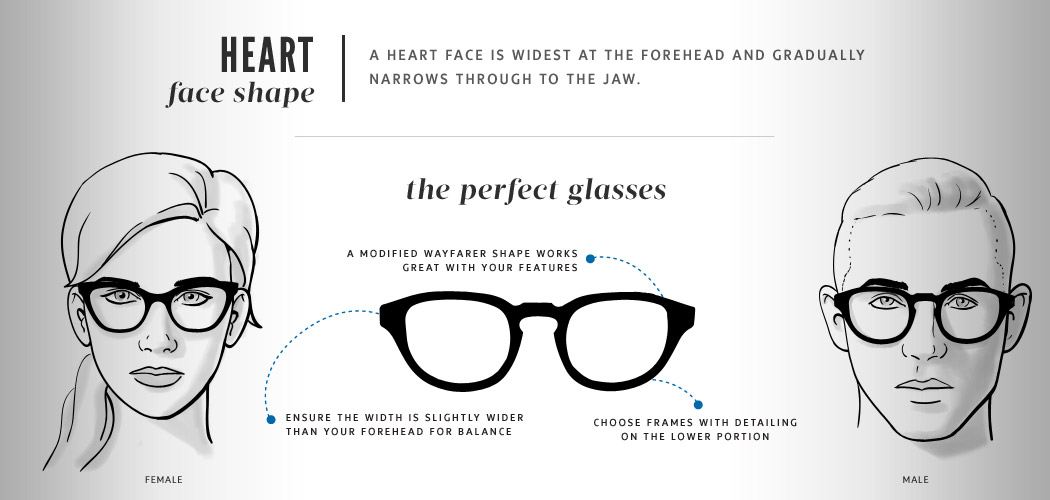 Frames to Avoid: Avoid wearing eyeglasses like decorative temples or embellished tops cause such frames will draw attention to the forehead which will look bad on a heart-shaped countenance.
ALSO, READ|'I am the best person to lead Facebook', says FB CEO Mark Zuckerberg
So there you have it, our ultimate guide to choosing the perfect frame for your countenance. As it is said earlier the spectacle frames you wear speak a lot about your style, your profession, and your lifestyle. Therefore, it is important to choose eyeglasses with care so that you look good in what you wear. I hope the above tips will help you to choose the perfect frames for yourself.
ALSO, READ|West Indies faces ICC World XI in a charity match at Lords